Register for free and watch all movies and TV series without ads in 1080p HD Quality.
Register Now
HD Server

HD 1080p

HD Server1

HD 1080p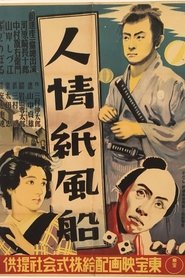 Humanity and Paper Balloons (1937)
The story develops in the Tokugawa era of the 18th century, in a poor district of Tokyo, where impoverished samurai live from hand to mouth among equally poor people of lower social classes. One such ronin (masterless samurai) Matajuro, spends his day looking for work whilst his wife, Otaki, makes cheap paper balloons at home. One rainy night, Shinza, a barber, and equally penniless, impulsively abducts the daughter of a wealthy merchant, hiding her at Matajuro's home. Their desperate plan has grave consequences when a ransom attempt backfires. The film, which starts and ends with suicide, is deeply pessimistic, insisting that life in feudal Japan was hellish and short for those at the foot of the social ladder.
Views: 5
Genre: Drama
Director: Ishirô Honda, Sadao Yamanaka
Actors: Chôemon Bandô, Chôjûrô Kawarasaki, Emitaro Ichikawa, Kan'emon Nakamura, Kikunosuke Ichikawa, Noboru Kiritachi, Shizue Kawarazaki, Sukezô Sukedakaya, Toshio Arashi, Tsuruzo Nakamura
Country: Japan
Duration: 86
Quality: HD
Release: 1937