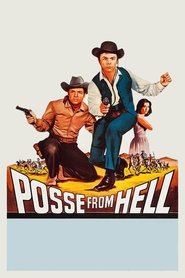 Posse from Hell (1961)
Murphy goes after bad guys who shot his friend the sheriff and abducted a local girl. In a plot reminiscent of High Noon, the posse of town blowhards gradually abandons Murphy; only tenderfoot banker Saxon remains, to prove his manhood. When they find the girl, obviously abused by her captors, Murphy shows her acceptance and sympathy whereas the others disply only revulsion.
Views: 16
Genre: Western
Director: Herbert Coleman, Ray Gosnell Jr.
Actors: Audie Murphy, Frank Overton, John Saxon, Lee Van Cleef, Ray Teal, Robert Keith, Rodolfo Acosta, Royal Dano, Vic Morrow, Zohra Lampert
Country: USA
Duration: 89
Quality: HD
Release: 1961